De Wildt is a 3 hour's drive from the Lodge.  Included in the trip is the following:
 • All travelling expenses
 • Entrance fees to the centre
 • Packed lunch
 • Drinks
Duration of excursion:  3 – 4 hours
Total of excursion, including travelling: 9 – 10 hours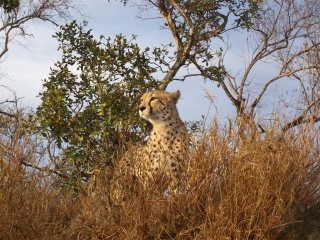 The De Wildt Cheetah and Wildlife Trust have received world-wide acclaim for the success of its cheetah and wild dog captive-breeding programmes. Unique management techniques developed over the years have resulted in the birth of over 750 cheetah cubs and more than 500 wild dogs, as well as numbers of other rare species such as brown hyaena, suni antelope, red and blue duiker and riverine rabbit.     
The De Wildt Cheetah and Wildlife Centre is a Cites (Convention on International Trade in Endangered Species) approved breeding centre and collaborates with the University of Pretoria's Veterinary Faculty, the Mammal Research Institute, the Agricultural Research Council and the Department of Environment and Tourism.
Other holding facilities for De Wildt's captive cheetahs are the De Wildt-Shingwedzi Wildlife Ranch (near Bela Bela), Cheetah Outreach (Cape Town), the National Zoological Gardens (Pretoria) and the Munda Wanga Sanctuary (Lusaka, Zambia).
As the first breeder of the rare king cheetah, the Centre has ended decades of speculation that the king was a separate species: it has proved that genetically the king is a true cheetah, but with a variation of coat pattern and colouring.