Mama Tau is an hour and a half's drive from the Lodge.  Included in the trip is the following: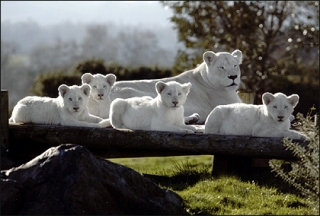 • All travelling expenses
• Entrance fees to the park
• Packed lunch
• Drinks
Duration of excursion:  2 – 3 hours
Total of excursion, including travelling: 5 – 6 hours
Mama Tau's white lions are coming from Kruger park area (Mpumalanga), and are circulating freely in a large fenced part of the private reserve, along with brown cape lions.
For centuries rumours of mysterious white lions had been circulating in South Africa. Legend said the white pelage represented the good to be found in all creatures.
Their Latin name of Panthera leo krugeri applies as well to all South African lion subspecies. White lions are not albino, they have pigmentation that shows particularly in eye, paw pad and lip colour. The cause of their unusual colouration is a recessive gene that results in the white appearance, and is found in a very small number of captive lions.
Come and enjoy close encounters with brown and white lions in a comfortable open car; guided drives last about 1¼ hour and are leaded by an experimented guide who will help you know better these wonderful predators.
Take a break in the bush with your friends or family, and share for a while some privileged moments in the lions' intimacy.