Sun City is a 2 hour drive from the Lodge.  Included in the trip is the following:
• All travelling expenses
• Entrance fees to Sun City
 
Excluding: All eats and drinks while at Sun City
 • All gambling expenses
Duration of excursion: 4 – 6 hours
Total of excursion, including travelling: 8 – 10 hours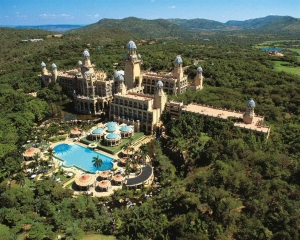 Sun City Resort has a unique heartbeat and an African rhythm of its own and is unlike any other Resort destination in the world. This is pure fantasy and your every desire is met. There are four world-class hotels including the magnificent Palace of the Lost City that glitters like a jewel beneath the African sun, brilliant in its rain forest surroundings and luxurious in its detail and design.