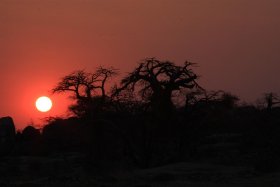 It is difficult to grasp the fact that the end of 2009 is slowly but surely approaching. It feels like yesterday that Jaco Wentzel (Kirabo Safaris' Manager) returned from the United States after his yearly marketing tour during which he visited some old Kirabo friends, clients and prospective clients in various states and at the Harrisburg Outdoor Show.
As always, hunting with Kirabo Safaris is well worth your trouble and this year was no exception. We have had some excellent hunts in the season thus far with some of the highlights mentioned in this news letter. Although the hunting has been superb our clients will confirm that this is not all that Kirabo is about. We are known for our personal attention and detail to all aspects of our clients South African experience and always try to make everybody feel part of the Kirabo family. We truly believe that our clients that visited Kirabo for the first time share this feeling and are looking forward to their return visits in the near future.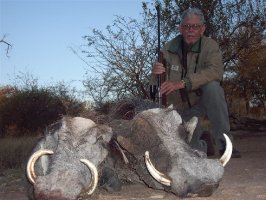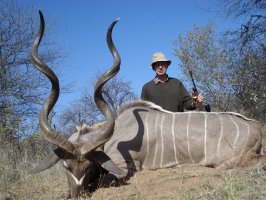 This was a difficult year for most people with the effect of the global economic downturn being felt across the world. We are striving to create custom package deals that offer the best hunting experience at an affordable price to assist our clients in realising their dreams of hunting on the African continent.
Although the end of August is approaching we are excited about some great hunts still coming up this year. We are looking forward to meet with some of our existing clients returning with some new faces towards the end of August and September. Next up is a big hunt with the 6 member Baker party from Benton, Pennsylvania. As an addition to their hunt, they will also be visiting Zambia and Chobe in Botswana, both of which will be an unforgettable experience. We will certainly let you know how this one went.
A truly exhilarating Lion hunt

Peter, one of our highly valued clients, experienced the hunt of a lifetime with Kirabo Safaris during August. He is shown in the picture with Jaco Wentzel (Manager and senior professional hunter) with the excellent lioness trophy he took during his hunt. The lioness proved to be quite a kill, testing the perseverance, skill and nerves of hunter and PH's alike. All hunters that have hunted in Africa before can tell you that a trophy can be taken quickly and easily and sometimes not.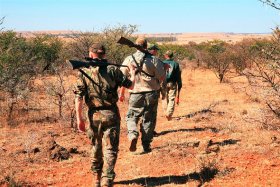 This lion was definitely not an easy kill. Despite all the skill and experience of the professional hunters it took nearly two days of hard tracking and various tactics to provide Peter with the ideal opportunity to bag his prized trophy. This lion together with his excellent Cape Buffalo taken last year certainly goes a long way to complete Africa's big five for Peter. Peter's shot placement was perfect and completed an excellent hunt which also included amongst others a Nyala as well as a Tsessebe. Kirabo is looking forward to having Peter back in 2010.
Having fun Mexican style
A group of 6 hunters from Mexico visited Kirabo Safaris during July. The week was action packed with a superb hunt and was highlighted by a great atmosphere of friendship, great laughs and just plain old fun. We showed them how to experience a great hunt while they taught us a lesson in having fun Mexican style. The total number of animals taken by the 6 hunters was 48 and included
4 Waterbuck, 5 Kudu, 2 Giraffe and 5 Gemsbuck (Oryx), not too bad for a week's work. As always Kirabo delivered on our promise of providing our clients with great opportunities to bag any of the great selection of Africa's beautiful animals. These guys surely know how to hunt and it was a privilege hosting them. As with most of our clients they were blown away with our attention to detail and personal service that we offer and we are looking forward welcoming them back next year.
Kirabo expands our Non-Hunting activities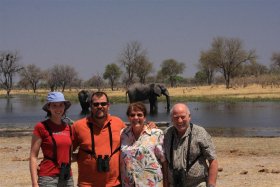 As some of you know Kirabo is not only all about hunting. We as a family have a great appreciation for nature and are privileged to live in a country which offers breathtaking locations and truly great wildlife parks and reserves that form a vital part in the sustainability of our natural systems. These wildlife reserves get a new meaning when crossing our borders to our neighbouring countries. Botswana and Namibia offers world renowned conservation areas, with most being larger than numerous European countries.
We have always offered our clients the opportunity to experience South Africa and our wildlife parks to the fullest with custom made additions to their visits. For the last couple of years we included trips to the world renowned Kruger National Park as a standard package to all our clients interested in experiencing this vast National Park where Africa's big five can be seen and experienced in their natural environment.

We have also arranged custom tours to Marekele National Park (normal non-hunting day activity in most packages), Pilansberg National Park near Sun City and various others on request of our clients. After a recent trip to Botswana and a lot of interest shown by some of our returning clients we have decided to include this as an optional addition to your hunting safari. Two of the renowned conservation areas in Botswana include the Okavango Delta, the largest inland delta in the world, and Chobe National Park, which probably have one of the highest densities of Elephant populations in all of Africa. To visit these parks is an experience of a lifetime. The top photo shows Victor and Marina Wentzel and Victor (jnr) and Cornel Wentzel having a well deserved rest on the banks of the Kwai River after a tough 4×4 drive through the thick sand of the Delta. The middle photo was taken on the Makgadi pans near Kubu Island and on the left is a unique African sunset over the Chobe River. Feedback we received from our clients' recent visit to these phenomenal areas confirmed that this is an unbelievable addition to the professional and personal service we show all our clients. We are looking forward to the Baker party who have decided to include a Zambian as well as a Botswana safari.

Looking forward to 2010

We are starting to prepare for 2010 and are extremely excited of the prospects for the coming year. As you have become accustomed, Jaco will return to America early next year on his annual marketing tour, where he will meet prospective clients and catch up with some of Kirabo's friends. He will also be back at the Harrisburg Outdoor Show and may attend a few others as well. We will send out his itinerary and contact details as soon as it has been finalised to enable you to get in contact with him.
What we can say at this stage is that we are looking at new and exciting packages for next year to expand on the great packages we already offer our clients. In light of the global economic conditions we are also looking into our prices to ensure that you get the best value for money without affecting our high quality of services and animals on offer.