Finishing Off The 2009 Season On A High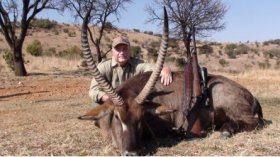 Kirabo Safaris finished the year off with two great hunts. The Baker party from Benton Pennsylvania, consisting of Glenn & Christa Baker, Marty & Joyce Erdossy, Paul Carter and Robert Lindsay had an amazing and extremely successful hunt. Between the 4 hunters they bagged a total of 36 animals. Some of the highlights of the hunt were a majestic 58.5" Kudu bull, three beautiful Nyala bulls with the biggest measuring 28.5" and a great 30" Waterbuck.
Glenn celebrated his 68th birthday with Kirabo. As a token of our appreciation for his long standing friendship with the Kirabo family we arranged an old fashioned African bush party for him. The evening was filled with great fun and many laughs.
The group had a truly remarkable African Safari.
Being true to our promise to provide our clients with a unique and complete African Safari, the group visited some of Southern Africa's most spectacular locations in addition to their hunt. They visited the Chobe National Park in Botswana in combination with the Victoria Falls. Experiencing the abundant bird and wildlife associated with the area adjacent to the Chobe River was an opportunity of a life time which we believe added great value to their hunt. This was another example that Kirabo will go to great lengths to ensure that our clients leave South Africa completely satisfied.
Some New Friends From Down Under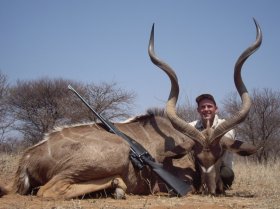 Kirabo hosted a wonderful couple from Australia to finish off the year. Grant and Chris McNamara fulfilled their dream of hunting in Africa and bagged some exceptional trophies. The highlight of the week was Grant's 54" Kudu bull. Chris turned the hunt into a battle of the sexes with her great shooting and quality of animals taken during the hunt.
Grant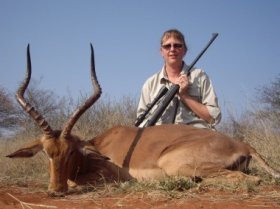 and Chris decided to add a trip to Pilansberg National Park to their hunt. This gave them an opportunity to experience the big 5 in their natural surroundings. Everybody had a great time and we look forward to their return.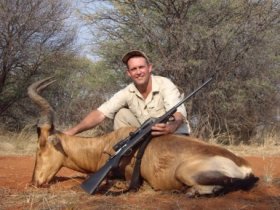 It is that time of the year again. During January and February of 2010 our manager Jaco Wentzel will be visiting the USA on his annual marketing tour. His US telephone number during the visit is 570 881 1156. His itinerary will be:
• 20 – 24 January: Cincinnati Hunting & Fishing Show, Ohio, Cincinnati Exhibition Centre, booth 433
• 25 – 28 January: Kansas City area at Great Guns in Liberty
• 29 – 31 January: Tulsa Midwest Sportsman's Show in Tulsa Oklahoma, Downtown Tulsa Convention Centre, booth 1404
• 2 February: Scranton, Pennsylvania
• 6 – 14 February: Harrisburg Eastern Sports and Outdoor Show, State Farm Show Complex, Harrisburg, PA, booth 5305
• 18 – 21 February: Springfield Sportsman's Show, Springfield, MA, booth 412
• 22 – 27 February: Massachusetts and Main area
Come and collect one of our new brochures, our African Hunting information booklet or just to meet Jaco. If you are not able to come to one of the shows we will be attending, contact Jaco Wentzel at 570 881 1156 to arrange for a meeting in any of the areas he will visit, or alternatively contact us at info@kirabo.co.za. Jaco will be presenting various packages and special offers perfectly suited to meet all your requirements. We are looking forward to an exciting hunting year and wish to see you here in Africa.
Non Hunting Information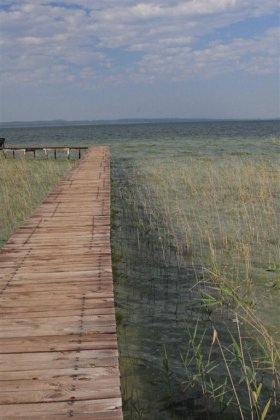 To ensure that Kirabo remains more than just a hunting outfitter we continuously expand our non hunting activities to ensure that when you book with Kirabo you truly get a complete and satisfying African Safari. One of the highlights of 2010 is the addition of a Mozambique fishing trip that you choose as an add-on to your hunt. Mozambique is one of the best fishing locations in Southern Africa. The natural beauty of its wide white beaches, lagoons and calm Ocean is almost surpassed by the abundance of fish in its waters. The warm Benguela Sea Current ensures that any fishing trip is rewarding and successful.
News From Kirabo
As some of you may know our raining season is in full swing and we are extremely grateful to report that we have been blessed with great rain. The ranch looks wonderful and the condition of the animals is perfect. The Kirabo family is looking forward to spend a relaxed Christmas at the Lodge and would like to wish you a merry Christmas and a happy and great hunting New Year!