Wildlife Experience
Game drives and bush walks are part of the leisure and wildlife experience at the lodge. Explore the untamed bush in open-air vehicles where various species of antelope and other African mammals including giraffe, zebra, eland, gemsbuck, blue wildebeest, kudu, red hartebeest, impala and warthog, to name just a few, can be seen. Bring along your camera, to capture some unforgettable moments.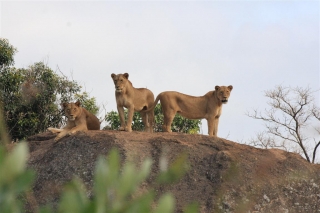 A visit to the Nyala breeding facility is also highly recommended. Here you will have the opportunity to come within meters of these beautiful animals.
Bird Watching
A variety of bird species can be spotted in the near vicinity of the Lodge including Kori Bustard, which is the largest flying bird in Africa. Guests may also visit a site on the banks of the Limpopo river (Botswana border), only 15 km from the Lodge.
Relaxation
Enjoy the warmth of the African sun next to the tranquil pool or relax on the upper deck, from where you have a bird's eye view on the nearby waterhole, where the different species of game visit to quench their thirst or just take a mud bath.
Star-gazing
This is open-sky-country which offers excellent star-gazing conditions through out the year.
Longitude-Latitude Crossing
The 24° east longitude and 27° south latitude cross a mere 500 meters from the lodge and this spot can be visited on foot. Some confluences enthusiasts have visited this point on more than one occasion. One such visit is recorded at www.confluence.org.
Day Trips
Day trips to the nearby Marakele National Park where the "Big Five" are at home, as well as the world-renowned Sun City and Pilansberg can be arranged. Visit our Gentle Giants and Experience a few hours in their world at Adventures With Elephants. Enjoy a day of relaxation and pampering at our local Bush Spa. Share in the thrill of completing the Magaliesberg Canopy Tour of the Magaliesberg Mountains. Considering a different perspective of viewing wildlife from the back of a horse or Quad Bike? Mabula Adventure Safaris offer this exhilarating experience up-close with the guidance of professional rangers.