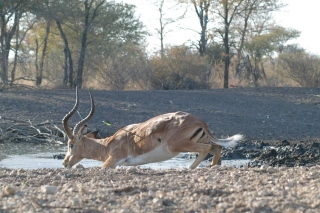 Kirabo Safaris provides clients with exceptional bow hunting opportunities. Two hunting methods are provided. The use of conventional hides/blinds or walking and stalking, the choice is completely up to the client.
Hunting from Blinds
All our hides are developed to give you the best opportunity to hunt an animal. We offer the patient hunter the opportunity to experience the African bush in the comfort of a functionally designed hide. Our hides provide a 120° shooting angle in order to maximize the opportunity of getting your ideal trophy and also to enable you to acquire the perfect line for your arrow. The inclusion of one way mirrors in the hides provide 360° sight right around the vicinity of the blind, which enables the hunter to observe the superb species of the African Bushveld in their natural surroundings. Most of our trophies are hunted from blinds at distances of between 10 and 30 yards.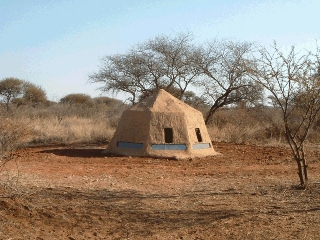 Walk and Stalk
Kirabo Safaris also offers our clients the opportunity to those more adventurous at heart to experience the thrill of walking and stalking. The excitement, adrenalin and satisfaction of hunting on foot in Africa will be an unforgettable experience. Walking through the bush while stalking game will allow you to experience the wonderfully unique fauna and flora found on the ranch. The abundance of bird life in the region will ensure added pleasure to every hunter that loves nature.