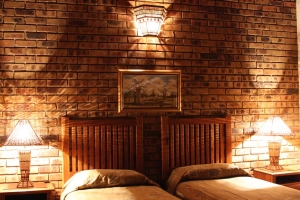 All camps are fully equipped, luxurious camps, which will address all your requirements for spending your Safari in Luxury. Each camp has its own chef and lodge staff to make sure you have everything you need to enjoy your stay with us. Please let us know of any special dietary requirements, food likes or dislikes and we will ensure that they are met.
Kirabo base camp has 6 on-suite bedrooms, each sleeping 2 people.  One room has a queen size bed, and the other five rooms have twin beds. There is plenty of hot water on demand. All rooms give an unobstructed view of the surrounding bush and allow for game viewing. There is an upper deck where one can enjoy the magnificent sunset while watching giraffes, eland and other game quench their thirst at the water hole. There really is no better way to reflect upon the day's adventure while sipping a "sundowner".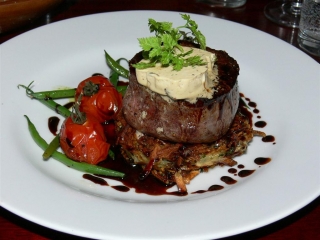 You will receive some of the best food there is to have on this earth. Apart from the quality and quantity of animals, our food is one of our highest acclaimed aspects of our service to you. Meals consist of a full cooked breakfast, lunch and a very fine dinner each day. You will be treated to local South African cuisine, trying out some of the best Africa has to offer, such as Gemsbok Fillet, Warthog sausages, "Potjiekos" and so much more. Moderate use of alcohol is included, however excessive use will be charged to each client's bill at the end of the trip. Clients have unlimited access to cold water and soft drinks.